Today, we're heading to Budapest, the capital of Hungary and the home of Aran Bakery Budapest, the ultimate destination for bread lovers. Arán Bakery is the brainchild of Kinga and Attila Pécsi, a couple who pulled off a LeBron V3 and took their talents from Ireland back to their homeland. They opened their own bakery with an Irish name and influence, and started making some of the most delicious sourdough bread and pastries you'll ever taste. In this blog post, we'll give you the lowdown on Arán Bakery, from its history and products to its location and nearby attractions. We'll also tell you why Arán Bakery is so popular and why you should visit it when you're in Budapest. Trust us, this is one bakery that will make you say "Wow!" or "Wow!" in Hungarian, which is "Hűha!" So buckle up and get ready for a mouthwatering ride with Arán Bakery.
History of the Aran Bakery Budapest
Kinga and Attila Pécsi are the owners of Arán Bakery, which means "bread" in the Irish language. They both have a background in the hospitality industry and moved to Dublin, Ireland in 2008. There, Kinga enrolled in a course on Baking and Pastry Arts Management at the Technical University of Dublin, where she met famous bakers and inspiring teachers. She also participated in various workshops in Ireland, UK, France and Belgium. She fell in love with sourdough bread and decided to make it her profession.
In 2017, Kinga won "The best sourdough" and the "Best fermented product" awards at a competition organized by ABST (Association of Bakery Students and Trainees). The next year, she and Attila decided to move back to Budapest and open their own bakery with an Irish name and influence. They brought their sourdough starter, Paddy, with them, which has Irish, American, British, French, Canadian and Hungarian roots.
What to try at the Arán Bakery in Hungary
Sourdough bread. The sourdough bread from the Arán Bakery comes in different flavors and shapes, such as white, whole wheat, rye, spelt, walnut, olive, cheese and onion. Their sourdough bread is crispy on the outside and soft on the inside, with a complex flavor and aroma. This is literally enough of a reason to visit Budapest.
Besides sourdough bread, Arán Bakery also sells pastries, cakes, quiches, sandwiches and coffee. Some of their most popular and delicious products are:
Cruffin: A cross between a croissant and a muffin, filled with custard or jam.
Cinnamon swirl: A flaky pastry with cinnamon sugar filling and icing on top.
Carrot cake: A moist cake with carrots, walnuts and cream cheese frosting.
Quiche Lorraine: A savory pie with bacon, cheese and egg custard.
Ham and cheese sandwich: A simple but satisfying sandwich with ham, cheese and butter on sourdough bread.
Flat white: A coffee drink with espresso and steamed milk.
Arán Bakery has won several awards for their sourdough bread and fermented products. They have also been featured in various media outlets, such as Tripadvisor², Offbeat Budapest³ and We Love Budapest⁴.
Where is the Arán Bakery in Hungary?
Arán Bakery has two branches in Budapest. The original one is located in the Jewish Quarter (District VII), at the corner of Wesselényi Street and Nagy Diófa Street. The second one is located in Buda (District II), at Margit Boulevard 62.
The bakery has a minimal and industrial design, with wooden furniture and metal shelves. The display cases are filled with tempting products that you can see from the street. The bakery also has some stools and tables where you can sit and enjoy your treats.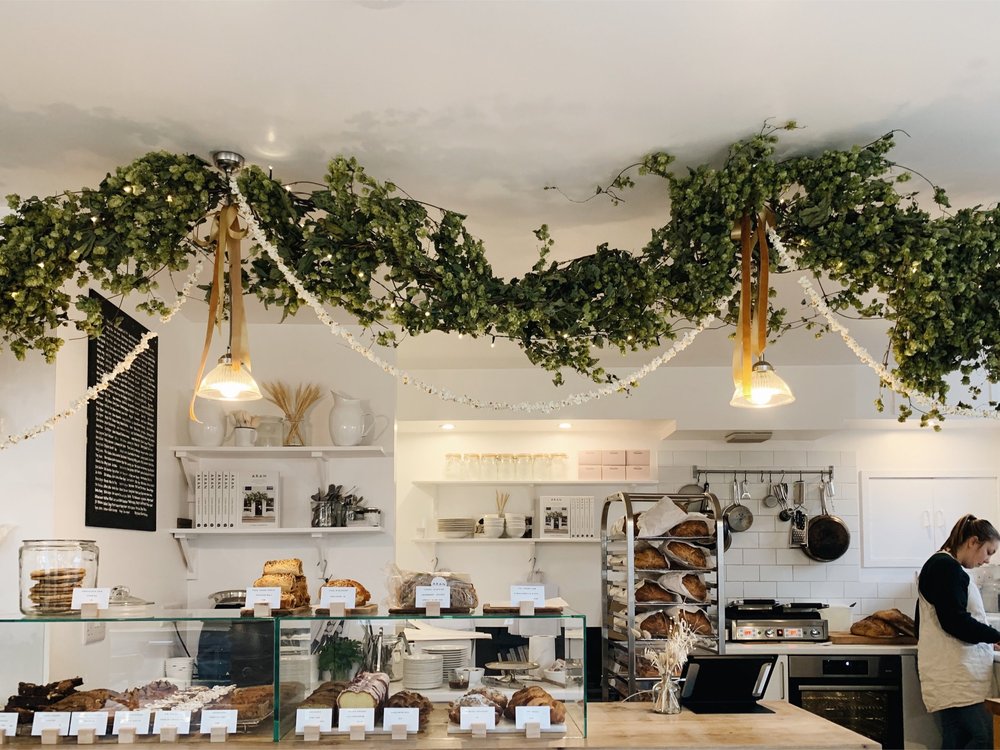 What luxury hotels are near the Arán Bakery Budapest?
The best luxury hotel within walking distance of the Aran Bakery Budapest is the Corinthia Hotel Budapest. To read more about great bakeries in Budapest, and the hotels you'll want to spend your carb comas in, check out our Hotels & Bread guide to Budapest.
What bread is famous in Hungary?
Bread is perhaps the most important and basic part of the Hungarian diet. It is eaten at all meals, accompanying main dishes. Before the fall of communism in 1990, white bread was a staple food. Numerous other types of baked goods, such as buns and pastries both salty and sweet, often creatively filled, have proliferated in recent years¹.
Bread has a significant role in Hungarian cuisine and culture. It symbolizes life, health and prosperity. It is also a sign of hospitality and respect. Hungarians usually say a blessing before cutting a loaf of bread, and never throw away bread crumbs or stale bread. Instead, they use them for making dishes like bread pudding or bread soup.
Some of the traditional and typical breads that Hungarians eat are:
Lángos: A deep-fried flat bread that is usually topped with sour cream and cheese, but can also have other toppings like garlic, ham or sausage. Lángos is a popular street food and snack that can be found at markets, festivals and fairs⁴.
Kenyér: A white or whole wheat loaf that is baked in various shapes and sizes. Kenyér is the most common type of bread that Hungarians eat every day, especially for breakfast with butter, jam or cold cuts.
Pogácsa: A savory scone that is made with flour, butter, eggs, cheese and sometimes other ingredients like bacon, onion or potato. Pogácsa is a traditional pastry that is often served as an appetizer or a snack with wine or beer.
Kifli: A crescent-shaped roll that is made with yeast dough and sometimes sprinkled with poppy seeds or sesame seeds. Kifli is a versatile bread that can be eaten plain, with butter or jam, or filled with cheese, ham or chocolate.
Why is the Arán Bakery so popular?
Arán Bakery stands out from other bakeries in Hungary for several reasons. First of all, they use quality ingredients and natural sourdough starter to make their products. Their sourdough bread has a unique flavor and texture that comes from their starter, Paddy, which has been nurtured for years.
Secondly, they combine international influences with local traditions to create innovative and delicious products. They offer both Irish and Hungarian specialties, as well as other European and American pastries and cakes. They also experiment with different flavors and ingredients to create seasonal and festive products.
Thirdly, they provide excellent service and a cozy atmosphere to their customers. They are friendly, helpful and passionate about their work. They also have a minimal and industrial design for their bakery, which creates a contrast with their warm and inviting products.
Who runs the Arán Bakery Budapest?
Arán Bakery is run by Kinga and Attila Pécsi, a couple who moved to Ireland and learned about baking there, then returned to Budapest and opened their own bakery with an Irish name and influence. They are both experienced and skilled bakers who have won awards and recognition for their products.
Kinga and Attila are also passionate about their work and their customers. They love to share their stories, achievements and challenges as bakers and entrepreneurs. They also love to learn from other bakers around the world and keep up with the latest trends and techniques.
What else is there to do in the Jewish Quarter in Budapest?
The Jewish Quarter (District VII) is where Arán Bakery's original branch is located. It is one of the most vibrant and diverse areas of Budapest, where you can find historical, cultural and culinary highlights.
Some of the attractions and activities that you can enjoy in the Jewish Quarter are:
The Great Synagogue: The largest synagogue in Europe and the second largest in the world. It was built in the 19th century in Moorish Revival style and can seat up to 3,000 people. It also houses a museum, a memorial garden and a Holocaust memorial.
The Ruin Bars: A unique phenomenon of Budapest's nightlife scene. These are bars that are set up in abandoned buildings or courtyards that have been transformed into quirky and eclectic spaces with vintage furniture, art installations and live music.
The Street Art: A colorful and creative way of expressing the identity and history of the Jewish Quarter. You can find murals, graffiti
Conclusion
Arán Bakery is a place where you can enjoy some of the best bread and pastries in Budapest, made with quality ingredients and natural sourdough starter. It is also a place where you can discover the rich and varied food traditions of Hungary and Ireland, as well as other countries. Arán Bakery is run by Kinga and Attila Pécsi, a couple who are passionate about baking and sharing their products with their customers. Arán Bakery has two branches in Budapest, one in the Jewish Quarter and one in Buda, both with a minimal and industrial design.
If you're looking for a delicious and satisfying treat in Budapest, you should definitely visit Arán Bakery. You'll be amazed by their sourdough bread, their cruffins, their quiches and their coffee. You'll also be able to explore the Jewish Quarter, one of the most lively and diverse areas of the city.
Additional Resources
Breadlovers Guide to Budapest